Class of 1973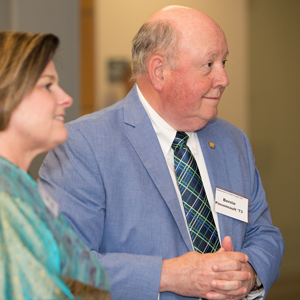 In 2009, Bernie Pinsonnault '73 received the Francis H. Hayden Memorial Award. Established in 1968, the Hayden Award is given annually by the Northern Berkshire Chamber of Commerce to a local citizen who has volunteered time, made personal sacrifices, and demonstrated leadership while making significant contributions to the economic, social, and cultural improvement of Northern Berkshire communities. 
Bernie graduated from North Adams State College, now MCLA, with a degree in business administration. In 2019 he retired as owner of Smith Brothers-McAndrews Insurance Agency in Adams. He has worked at Adams Cooperative Bank and at Legacy Bank and has served as a trustee of South Adams Savings Bank. He currently serves as a trustee of Adams Community Bank.
    
Active in local government, Bernie has served as an Adams town meeting representative, a member of the Adams Downtown Development Committee, and a member of the local team that verifies election results.  He used his position at the Berkshire Fund Inc. to found the successful Good Samaritan Home Ownership Program, which provides assistance to low-income families purchasing their first homes.
Bernie's service to the Berkshire community also includes stints as an assistant basketball coach in the Adams Police Athletic League, treasurer and board member of Adams Little League, and coach and board member of the Adams Youth Soccer League. He is currently serving on the Berkshire Community College Foundation's board.
A dedicated alumnus, Bernie has served as vice chairman of the MCLA Foundation and on the Foundation's endowment and trust committee. Bernie currently serves on MCLA's Golf Classic committee.
Bernie's passion to make significant contributions to the community has led him to plan for an endowed scholarship at MCLA in the name of himself and his wife, Dianne Cutillo. He has named MCLA Foundation as a beneficiary of his estate plan. The endowed scholarship will be maintained by MCLA Foundation in perpetuity, contributing to the education and lives of endless generations of MCLA students.